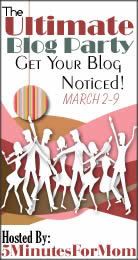 I've just been meandering around and visiting different places and noticed this on a few blogs so I figured it wouldn't hurt to put up a little blurb about myself:o) I actually started blogging as a result of wanting to comment on a friend's blog, and I've been doing it ever since! I don't think I've ever done an "about me" post, so now is just as good of time as any!
Let's see, I'm a 24-year-old single
Christian girl
who just celebrated being saved for 9 years! My life revolves around God thankfully. Many times my family wonders at the time I spend at church or doing things related to church, but I think that that's just a natural result of wanting to draw closer to God and be around those who want to follow Him too!

From kindergarten until 8th grade I was in public school, but for my high school career, my parents put me in a Christian school and I'm so glad they did! I graduated in June 2001, and started up with Bible Institute in the fall:o). I worked at the local grocery store for 2 years before calling it quits (as a result of the rock music being played over the speakers) and was jobless for a month before I was asked to work in the church office. I've been doing that ever since, plus working in the very school from which I graduated:o). Most people hate their job, but I find mine very pleasurable and fun. The only thing I miss being able to do is witness to my co-workers:o).

I'm constantly taking trips here or there, and have a strong bent towards mission trips. The next trip God has opened for me will be to Thailand during this summer. He has been most faithful in providing in various ways for this trip, including an unexpected babysitting job tonight!

When I do have spare time, I enjoy taking walks, reading, and scrap booking. I managed to do two of those three things today, as this was a nice day without any major plans (which is quite a feat, let me tell you!).

So there you have it, in a nutshell. Or, maybe I should say in a blog post! I enjoy life so much since it has been given to me by the Creator of Life... each day is a new opportunity to take time to count your blessings and praise the Lord!